Dear Ladies and Gentlemen,
We will be at the world's leading trade show for industrial technology again -
from April 1st - 5th 2019 at the exhibition center HANNOVER MESSE!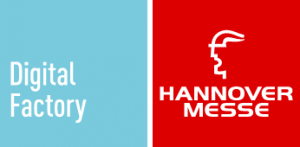 It is therefore a great pleasure for us to invite you for a visit of our booth "K22" in hall 6.
Our Highlights This Year:
ToolSystem - presentation of latest version 2018.1
Again a number of innovative features have been incorporated into the development of our tools this year. Be the first to get a picture of those new features in a personal conservation with us.
ProPlan
Let us introduce you to the latest developments of our CAE-tool ProPlan. Now we automatically "route" you to the future.
Take a closer look at our fluid and R&I flowchart and the updated symbol tablets.
RoutingAssistant - The AutoRouting system for your CAE
Interested? We can provide further information to you about the fully automatic wiring routing, cross-cabinet and taking into account doors and other depth dimensions by determining the 3D coordinates.
MatClass - Convenient data management - Easy distribution
We will show you how AmpereSoft MatClass supports you in the maintenance of your products with eCl@ss ADVANCED and greatly simplifies the distribution of your product data to business partners.
Cloudless was yesterday - Data available at any time
You will receive an exciting preview of the advanced development of how data can be used in and out of the cloud and the benefits resulting from it for you.
eCl@ss ADVANCED – The effective use of standardized data for Industry 4.0
Experience how tasks in the engineering process can be done software-supported and automated simply by using eCl@ss ADVANCED Data.
AutomationML - standardized data exchange for engineering projects
We are a new member of AutomationML e.V. now and we are looking forward to discussing with you at our booth, how and why together with strong partners we can intensively promote the standardized exchange of engineering projects - not only for Industry 4.0 and BIM.
Further topics:
ServiceFlow - Innovations for the BIM-integration planning
We would like to share information about the ServiceFlow project and show you how to create a lifecycle planning and installation process for building automation systems and which innovations are incorporated. The goal of the cooperation between the "ServiceFlow" research group of the Dresden University of Technology and us is an open service platform along the entire value added chain of smart buildings.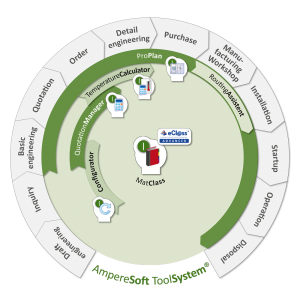 Are you interested?
Then register right now for your personal e-ticket and visit us at our booth.
After registration you will receive the e-ticket by e-mail, please print (DIN A4, the German standard paper size) and show it at the entrance then. The personalized trade visitor e-ticket is a permanent ticket vaild for all exhibition days.
Note that the trade visitor e-tickets do not include a ticket for the public transport. You might have to purchase tickets for the public transport of Greater Hannover (GVH Großraum-Verkehr-Hannover) separately to get to the exhibition grounds.
We wish you a successful trade fair visit and we are looking forward to welcome you at our booth!
Your AmpereSoft-Team